Day 10 - Mix climbing at Bear Spirit
The cold weather yesterday had taken its toll on our energy and we thus decided to take an easy day mix climbing at Bear Spirit. Compared to
Haffner Creek
the drive is shorter whereas the approach is longer which might make you wonder why Bear Spirit is worthwhile!? The answer is easy - the longer approach keeps most people away and it is thus a much more pleasant place to climb!
I initially climbed the large free-standing WI4 pillar which was a lot of fun. The right side had been climbed a lot whereas the left side was quite virgin which sported a fun climb on structured ice. Afterwards Carlos Buhler and David Brauner top-robed the climb in order to warm up for the mix climbing.
Carlos then led the mixed route
Spoiler
(M7+), which I subsequently top-roped albeit with two rests. It had great holds all the way, but the overhanging route soon emptied my forearms for energy! I also suck at free climbing rock overhangs so my rests came to no surprise to me.....
The ice pillar grows all season and thus covers several of the central mix routes this late in the season. Carlos thus had to improvise when he attempted to start on
X-Mass Chopping
(M8-) and then traverse left towards
Unleash the Frogs
(M7+) under the ice curtain. It proved to be pretty exposed and finally he had to retreat from the bolts.
David had never led a free-standing WI4 pillar and had thus struggled mentally all day on whether to lead it or not. Just before we left the area he decided to give it a go - and got to the anchor. A great day for him!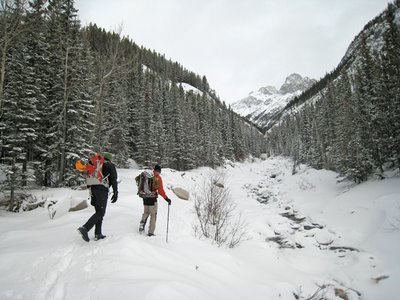 Most of the 1 hour approach follows this beautiful creek.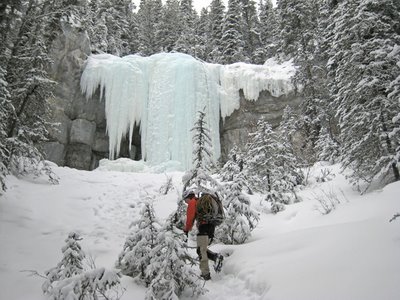 Carlos on the final approach to Bear Spirit. A small but great area. The route Spoiler follows the overhanging crack system just left of the ice curtain.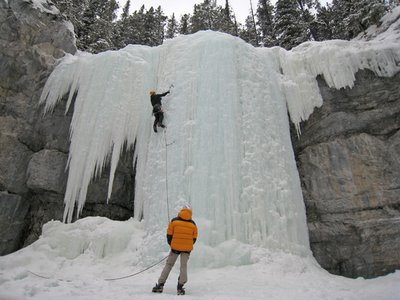 David leading his first free-standing WI4 pillar.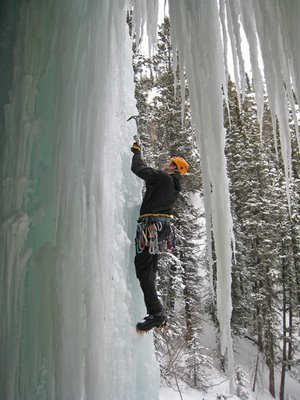 David leading the pillar.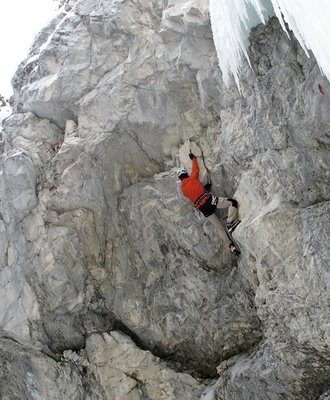 Carlos leading Spoiler (M7+)
.
Previous posts.
Labels: climbing