Day 4 - Marion Falls, Johnson Creek, The Ghost - Part 1
Johnson Creek is a remote part of The Ghost which is rarely visited in the winter. Carlos Buhler had never been in the canyon so we decided to go in there in order to climb
Marion Falls
(100 m, III, WI5) if it looked good. We drove as far into Waiparous Creek as we dared without snow chains. It was quite a challenging drive as the road turned into snow covered Quad tracks.... Just before the bog we parked the truck and hiked into a canyon which we believed was Johnson Creek. However, we couldn't really find a creek and ended walking up into a forest which didn't seem right..... Suddenly, we could see
Hydrophobia
and we then knew that we had walked too far south and had ended up in the wrong canyon. Bummer! Albeit we knew that we wouldn't be able to climb a route in Johnson Creek, as it would be too late, we decided to do the hike which we did not regret. It was beautiful over there and we saw that all three climbs over there [Venus (WI3), Caroline Falls (WI4-5) and Marion Falls (WI5) all looked great! We thus decided to come back another day with snow chains so we could drive across the bog and get closer to the climbs. More on that another day......
Driving on Quad tracks in the forest with Carlos' 4WD was quite challenging.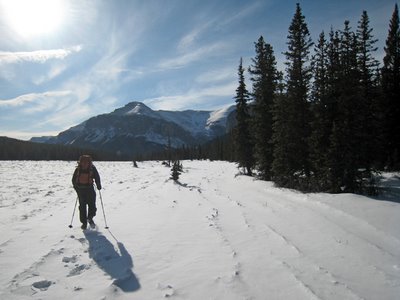 Carlos on the approach on the bog. The canyon to his right in the horizon is where Hydrophobia is located.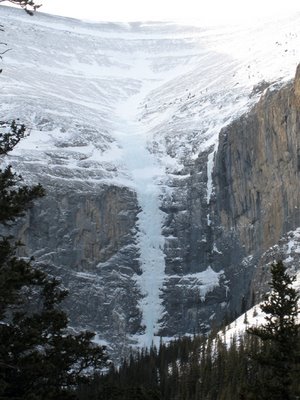 Hydrophobia (150 m, V, WI5+) - an awesome looking climb, which however was not our goal of the day. We had hiked into the wrong canyon!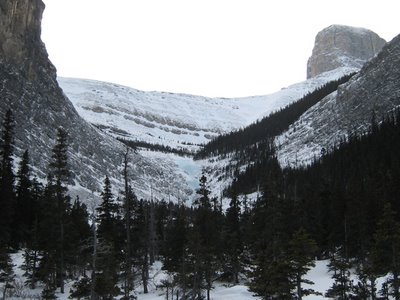 V
enus (50 m, III, WI3)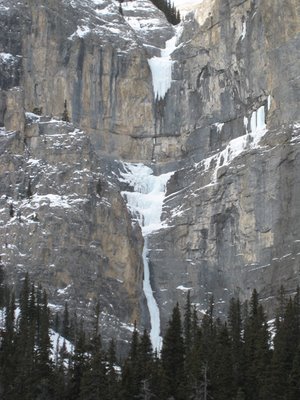 Caroline Falls (50 m, III, WI4-5)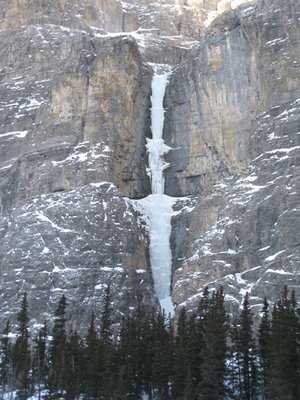 Marion Falls (100 m, III, WI5) - our goal of the day. However, when we finally found it, it was too late to climb it!


Previous posts.
Labels: climbing