Day 1: The Sorcerer (210m, IV, WI5), The Ghost, Canada
January 31 I traveled to Banff, Canada to begin a 1 month leave without pay to go ice climbing! I crashed at my friends Crista-Lee Mitchell and Carlos Buhler the first night and to my luck Carlos was eager to climb with me the next day. He asked if I was in good shape which I acknowledged and he then suggested to go to The Ghost and climb the super-classic route
The
Sorcerer
(210m, IV, WI5).
Next morning we thus got up at 5 AM and drove for 2 hours on increasingly bad roads. Glad Carlos had a 4WD truck and know how to use it! Eventually we crossed the Ghost River and parked the truck. Next we walked for 2 hours in increasingly deep snow which was hard work. It was kind of difficult to find the route as we walked in thick forest which obstructed our view, and we were close to giving up when we reached the ridge of the creek from the waterfall - and there in the back of the valley was The Sorcerer. I had to swallow a couple of times as it looked pretty difficult from this distance.....
We walked along the ridge as far as possible but soon had to dive into the knee-deep snow of the creek. As we reached the base of the climb Carlos offered me the crux fourth pitch as I would otherwise have to come back and climb it another time! Accepting his logic he started of on the first pitch. I climbed the second pitch which led up to the crux pillar of which Carlos led the first half up to a gave. The ice was kind of airy which gave good deep sticks with the ice tools and occasional good foot holds. However, given the air in the ice the screw placements were a bit questionable. However, I have tried worse and thus happily took the lead on the fourth pitch. Nevertheless I was happy when I reached the end of the vertical ice as my forearms and calves were getting busted!
We rapped the route and just got to the base of the climb as darkness fell upon us. 2 hours walk-out and 2 hours drive later we were back at the house. What a great day in a great setting!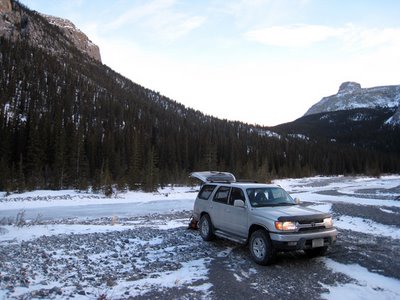 Carlos' 4WD truck parked in The Ghost River.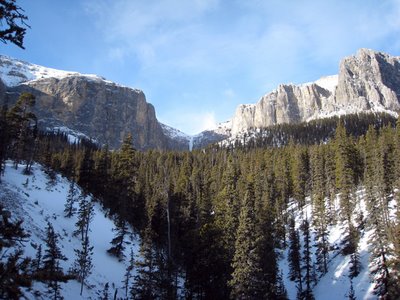 Standing on the ridge seeing The Sorcerer fo
r the first time.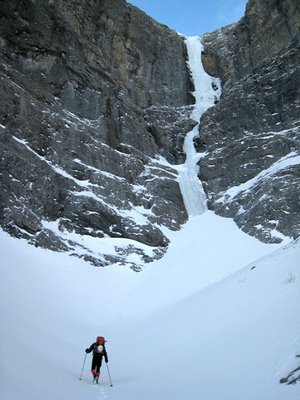 Carlos on the final approach to The Sorcerer.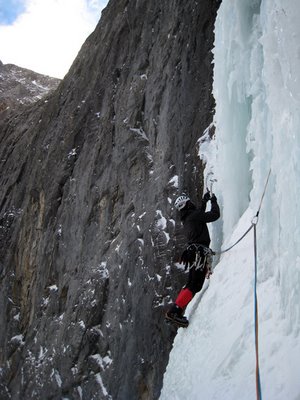 Carlos traversing left to lead the third pitch.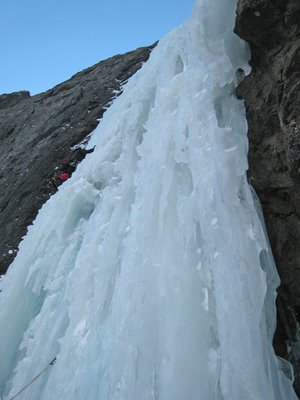 Carlos leading the third pitch of airy ice. In my view this pitch was just as hard as the fourth crux pitch.





















Previous posts.
Labels: climbing