Elvira in New York City

Last weekend was Thanksgiving weekend and while I was in Denmark working for the Danish Medical Research Council, Elvira went on sightseeing in New York City.
Elvira got to see the famous Macy's
Thanksgiving
parade, Central Park, Empire Sta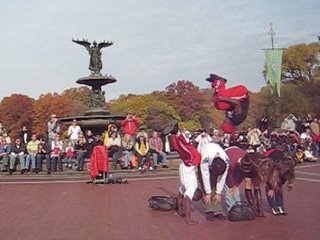 te build, Ground Zero and the Statue of Liberty. Well, have a look at a picture
slide show
from her trip
here
.
In central park she also saw an amazing trio of
street dancers
. Have a look at a movie of the dancers
here
[Quicktime or iTunes required].
Previous posts.