Kayaking with the rich and famous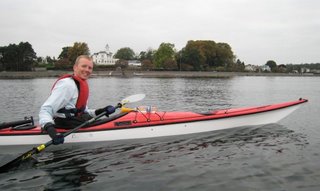 Earlier this week I enjoyed the last kayaking trip this season - it is getting too cold here and I will be leaving for a four month stay in US/Canada in a couple of weeks..... Together with my friend and colleague Ulrik Sørensen I kayaked along the seashore north of Copenhagen between the harbors of Skovshoved and Taarbæk. This piece of shore is among the most expensive addresses in Denmark and it was thus quite interesting to get to see the big mansions close up. When you drive along the road (the famous
Strandvejen
) you can hardly see the beautiful houses due to big fences, but obviously they have a clear view of the ocean - and thus you have a clear view of them when you are close to shore in a kayak!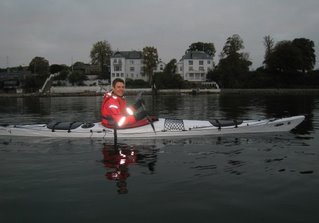 On the picture above you see Ulrik in front of
Hvidøre
from the 18th century which has served as a summer residence, diabetes hospital and most recently as internal conference center for the drug company Novo Nordisk. I was once there for a scientific meeting and it is
quite
nice! Between Ulrik and Hvidøre you can see the outline of a statue of the famous danish polar researcher
Knud Rasmussen
.
On the picture right, you see me in front of some impressive houses in my new flashy kayaking suit - as you can see the reflector stripes work quite well!
Well, it was a great after-work-trip, but due to the short days we had to turn around after just one hour and still we returned to the harbour in darkness. Next year I will have to come back in the summer so we can go even further up the shore - it is a beautiful spot!

Previous posts.
Labels: kayaking