Drytooling in Hans Tavsens Park, Copenhagen
This Sunday I went to Hans
Tavsens
Park in Copenhagen to
drytool
on two concrete climbing walls with
Kristoffer

Szilas
,
Anders Strange Nielsen
and Morten
Johansen
. In particular Kristoffer has been very active in making first ascents on the walls which are up to 5 meters high and have just published a
drytooling
guide which can be downloaded in
PDF
format
here
.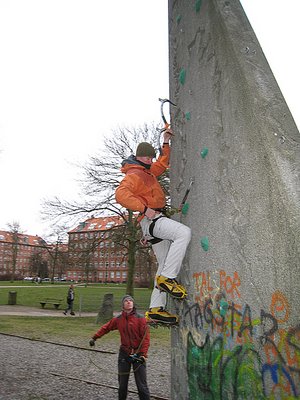 Morten

Johansen

leading the left route facing the graveyard on the highest wall (graded D5+).
The
drytooling
experience in Hans
Tavsens
Park is very realistic compared to mixed climbing on rock: you have to "feel" the holds carefully to find good placements and balance your crampons and ice tools carefully in order not to fall. Finally, the walls are bolted and with top anchors allowing you to lead the routes.
Kristoffer making the first ascent of the left route on the short wall facing the graveyard (graded D6-).


Another option if you like
drytooling
training in Copenhagen is the outdoor climbing tower on
Artillerivej
71 as previously described on my
blog
. There you climb on big wooden holds which gives more physical pump but less technical training.