The Eternity (18) and Auntie Jack (19), Mt. Victoria, Blue Mountains, Australia
Mid April 2009: After a stop in the Australian sports climbing capital
Nowra
(which I didn't like particularly much), we had reached our final climbing destination: the famous Blue Mountains West of Sydney. We went to several single pitch cracks with Sofie which was great fun and it was great to be back on sandstone. The most memorable climbs for me were the awesome crack line
The Eternity
(18) and the sustained face climb
Auntie Jack
(19) at
Mt. Victoria.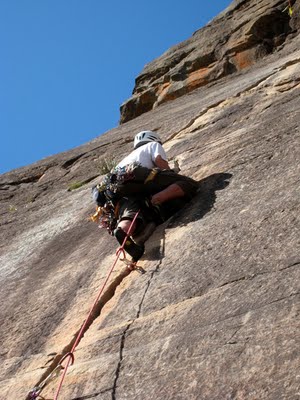 Hans leading the famous and awesome crack line The Eternity (18). One of the most fun cracks I have ever climbed as it was very varied and kept you thinking from the bottom to the top!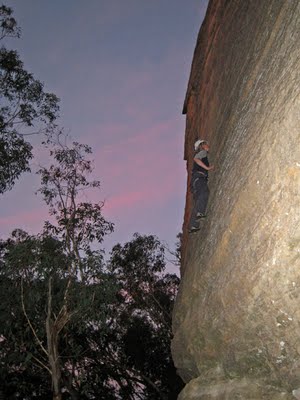 Elvira toproping Auntie Jack (19) in the sunset. A great line which however was a bit unnerving. It was protected by a mixture of carrot bolts and nuts/friends. According to my taste they could have thrown in a few extra blots! Also, a few bolts up I found out that my carabiners were too thin and the bolt plates could thus pop out of the carrot bolt!!!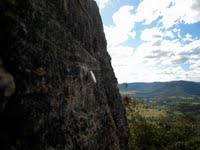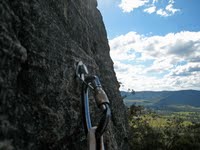 The infamous Australian carrot bolt system. Left you see the carrot bolt onto which you place a bolt hanger (right). It is important to use carabiners which are big enough so the plate cannot exit the bolt during a fall. The carabiner was actually too small which I discovered while leading Auntie Jack - quite unnerving!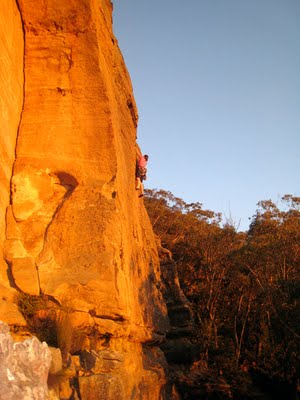 Another beautiful sunset at Mt. Victoria! Unknown Aussie climbing Giggles (16), which was a nice route.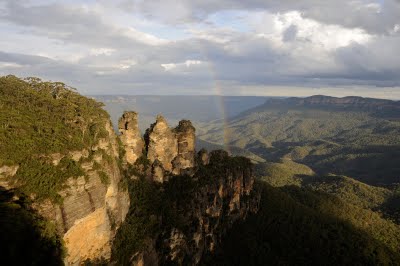 And finally, the most famous view in the Blue Mountains: The Three Sisters.
Labels: climbing