Grey and Green Wall, Mt. Stapylton Amphitheatre, The Grampians, Australia
Both The Grampians and Arapiles are renowned for their trad protected multi-pitch routes, which is one of my favorite kinds of climbing. Unfortunately, it is not really possible to climb such routes with a baby onboard and I was thus lucky to bump into David Morse (Wales) and Jack Scott (Australia) in The Pines Campground, Arapiles. They were happy to bring me along on a multi-pitch climb in The Grampians as I had the car to bring us there - and they were psycked to try this area.
On March 19, 2009 we thus drove to the
Mt. Stapylton
area to climb on the
Grey and Green Wall
. It turned out to be a fantastic day with three great pitches in the most beautiful surroundings.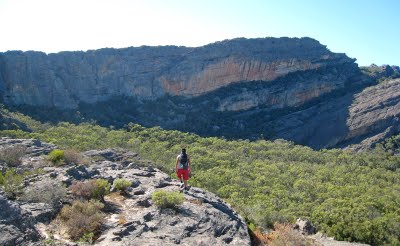 David Morse on the approach to the Mt. Stapylton Amphitheatre. The famous (and very hard) Taipan wall is the orange rock in the right. The Grey and Green wall is just left of the Taipan wall.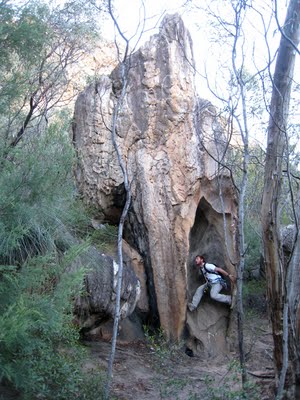 The forrest below the walls sports many boulders which are used for bouldering. Here Jack Scott is praticing his off-width chimney skills on a funny looking boulder.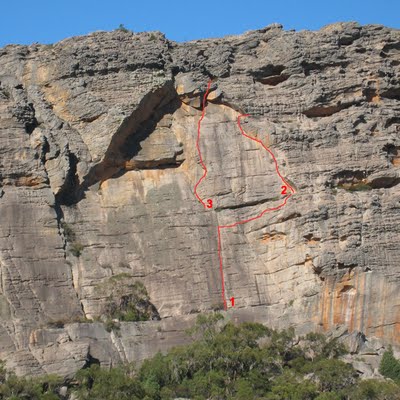 The three pitches we climbed on the Grey and Green Wall:
1) Spillway (18)
2) Navarre (17)
3) Sweet Dreams (19)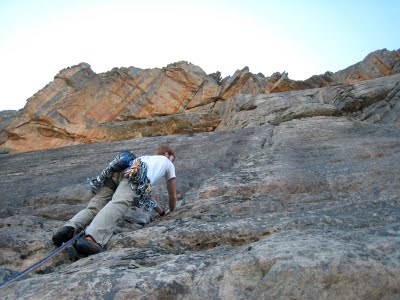 Our first pitch was Spillway (18), led by Jack Scott, which was a slab route protected by the Aussie carrot bolts.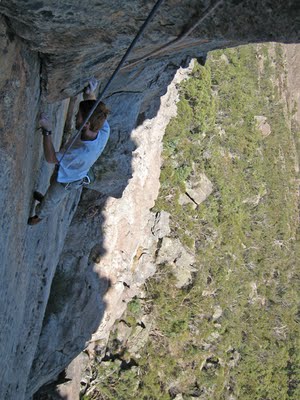 Next I led the awesome pitch Navarre which followed a left-trending diagonal corner. I thus had my feet on small ledges on the wall while using the crack of the corner for my hands (and Friends!). Super position!
Here Jack Scott is cleaning the pitch.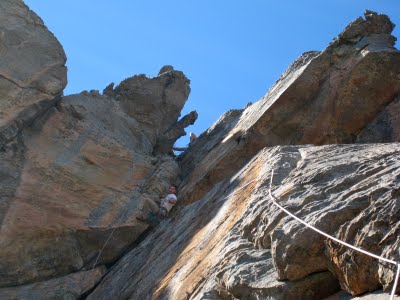 We had to abseil halfway down the wall to get to the start of Sweet Dreams. David Morse led the pitch which started out with delicate slab climbing without a lot of protection. The route then changed character and became an overhang which looked quite hard. However, once you got the feet up on the overhang (as Jack Scott shows here) it was surpricing easy and a lot of fun due to a lot of hidden holds in the crack.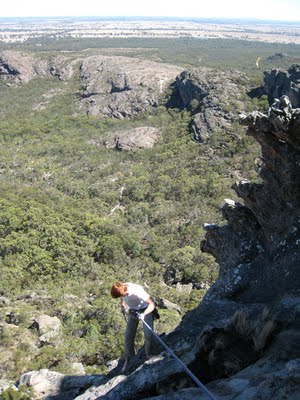 Jack Scott abseiling the wall. Great view with the approach route on Flat Rock seen in the backround.

Labels: climbing