Integral Crack (19+), Booroomba Rocks, ACT, Australia
After
climbing
Mt.
Kosciuszko
we
drove
to
Canberra
,
the
capitol
of
Australia
, to visit
Uncle
Guy.
He was so kind to offer to take care of Sofie while we went climbing in

Booroomba Rocks

- a great granite slab just outside

Canberra

.
In order not to waste precious time on the approach we actually go there with Sofie and Guy the day before the climb - it is also a nice hiking area.
My goal was to climb the famous
Integral Crack
(48 m, 19+) which turned out to be an absolutely fantastic pitch! As it is stated in the guidebook "
A classic by any standards. The best line at Booroomba..... with sustained face climbing and excellent natural protection
". An excellent line which follows a thin crack in the solid granite. It is sustained throughout the 48 meters of climbing, which is a rare quality.
Next, we climbed the line
Roy's Crack
(50 m, 14), 10 meters to the left, which is infamous for bad protection and has been the scene of one death and several serious accidents. I didn't find it that hard to protect but in particular the lower part was an awkward off-width crack, which I think could scare beginners and thus cause them to quickly put pro into less than perfect places. Anyway, I found the route to be a bit loose and vegetated and not near the quality of
Integral Crack.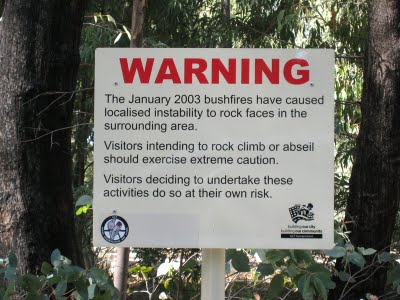 A great way to welcome climbers!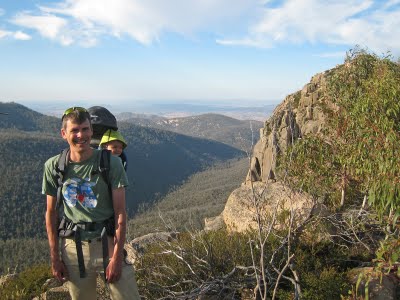 Sofie and Hans on top of Booroomba Rocks scouting the approach to the base of the climbs.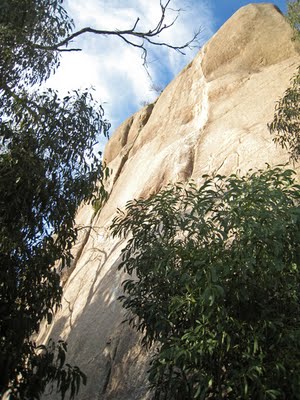 The South Buttress with Integral Crack in the middle and Roy's Crack to the left.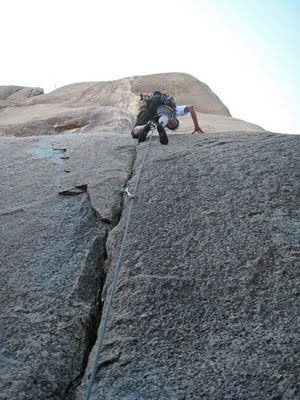 Hans leading Integral Crack - one of the best crack routes I have ever climbed!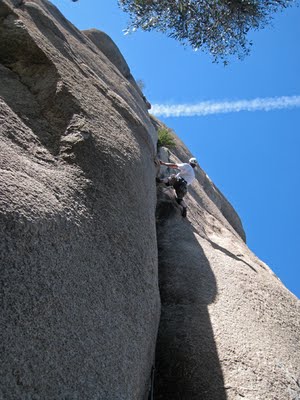 Hans just above the off-width start and approaching the vegetation on Roy's Crack!
Labels: climbing