Ascent of Mt. Kosciuszko, Australia (2229 m)
Mt. Kosciuszko
(2229 m) is the highest mountain in Australia and has gained fame a one of the peaks of the original
Bass list of the Seven Summits
. Many mountaineers aspiring for the seven summits thus come to The Snowy Mountains to "climb"
Mt. Kosciuszko
. This is quite a joke given that it is a hiking summit which anyone with even a minimal degree of fitness can "climb". Nevertheless, it is actually a beautiful area as the alpine vegetation is quite unique (in particular the snow gum trees are beautiful), and it is thus a worthwhile hike - in particular if you come off season to avoid the massive summer crowds!
On March 26, 2009 Sofie Frederikke, Elvira and I hiked to the summit. It was not the best weather as it was quite windy, but we had a great day - and now Elvira and I have both climbed two of the seven (
Mt. Kilimajaro
and
Mt. Elbrus
, respectively), and Sofie has her first!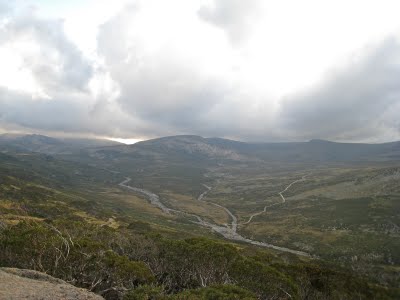 Snowy Mountains seen from the parking lot. Mt. Kosciuszko is hidden in the clouds on the left. Mt. Clarke is the peak in the middle and Mt. Lee is the peak to the right.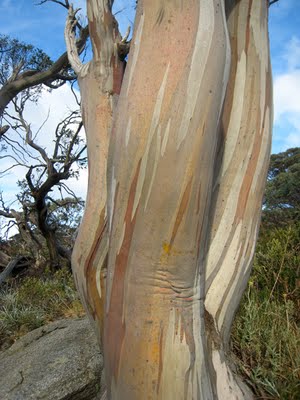 Closeup of the beautiful bark of a snow gum tree.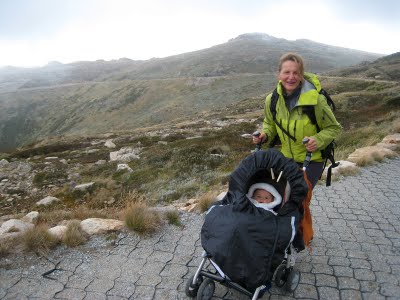 Elvira pushing the pram with Sofie towards the summit.
Sofie and Elvira on the summit of Mt. Kosciuszko :-)
The Seaman Hut is located halfway between the parking lot and the summit. We took a break in the hut on the way down to get a rest out of the wind!
Labels: climbing