Open water training has started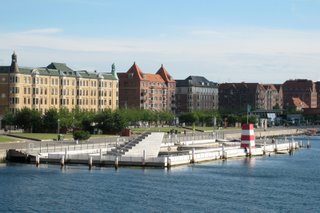 Did you know that Copenhagen has one of the only harbours in the world that is so clean that you can swim in it? To my luck the county has placed a harbour bath with a 75 meter open water swimming pool on Islands Brygge just 10 minutes walk from the city center and 5 minutes walk from my home.
In the summer I thus usually swim 10 lanes on my way home from work every day, which is very refreshing. Today I began the training, albeit the water is still a bit cold (19 °C today). I thus wore a 3 mm neoprene suit which makes a dramatic difference. Actually, the suit is also nice to wear later in the summer to avoid stinging jelly fish!
Last year, the swimming union of De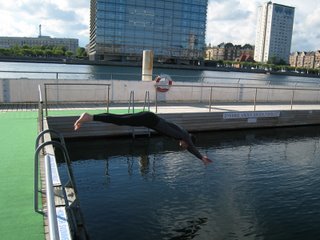 nmark organized an open water competition swimming around the channels of the Danish Parliament, Christiansborg Palace. I participated and finished 152 using 48 min to swim the 1.9 km! Not a stunning finishing time, but it was really cool to swim in the channels and under the bridges, which are normally off limits for swimmers (because of dangers being hit by a boat)! The competition will be repeated on August 25 this year (
www.openwater.dk/t2w_924.asp
). Unfortunately, I will not be able to participate this year due to travels, but give it a try if you have the time!
Previous posts.
Labels: training