Cerro San Lorenzo part 5 - ascent of Aguja de Rune
The next morning (June 19) the weather was still perfect and we thus packed all our rock gear and walked over to the peak we had picked out.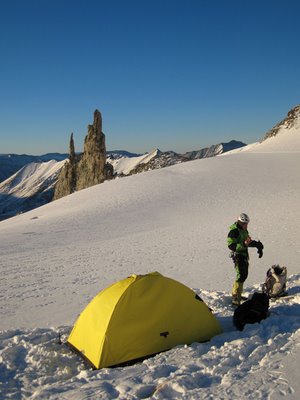 Carlos getting ready to climb the peak behind him.
This time the approach was extremely simple as we just followed our tracks from yesterday to a rocky ridge which we
initially
climbed
unroped
. As the exposure increased halfway over we roped up, and Carlos lead about a
rope-length
of
scramble
mainly by just swinging the ropes back and forth between the rocks on the ridge. At the bottom of the steep wall, he established a belay and secured my passage across the ridge.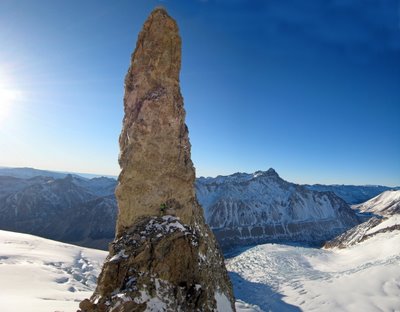 Carlos (in green Gore-Tex) building an anchor at the base of the steep climbing. Great view and great exposure!
Next Carlos started leading what would become the first pitch following a crack system starting directly above the belay and then trending rightwards.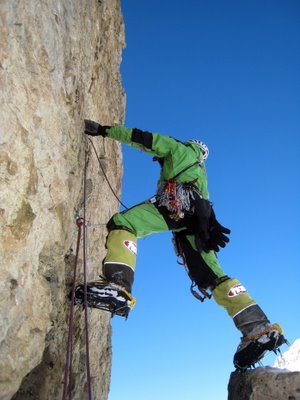 Carlos taking the first step onto the vertical wall of pitch 1.
The first pitch was climbed by a combination of
drytooling
, free climbing and semi-artificial climbing (i.e. resting on pro while figuring out the next moves).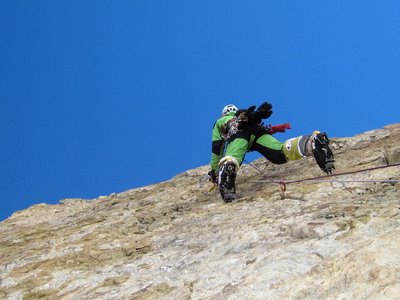 Carlos leading pitch 1.
Eventually he
disappeared
around the corner to the South face at which point the rock got loose and he thus progressed slowly as he cleaned the loose rocks away. After ~4 hrs he yelled "Secure" and I followed as quickly as possible by a mix of free moves and pulling on gear.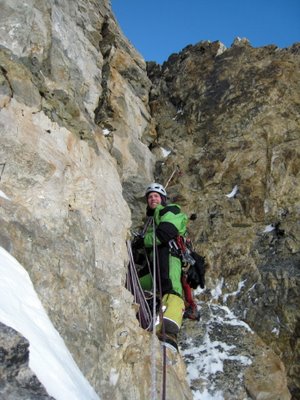 Carlos at the second belay.
The next pitch initially followed a corner crack which was unfortunately too wide for our friends. There was not many other features to accept our pro but luckily there was several suspect looking chock stones in the crack which Carlos could then use as pro by putting slings around them. Given the wide crack and lack of features on the walls he decided to aid the first part of the pitch as there was not much to hold on to with his hands or
icetools
.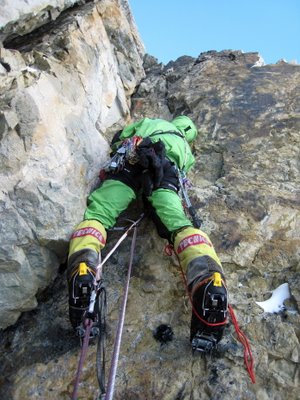 Carlos aid-climbing pitch 2 with "on-the-spot-made"

etriers

.
Once he got above the vertical wall, the steepness declined and the climbing got easier, but also loose again! It was thus slow and careful going. The sun was now setting, and I was thus very happy when I heard Carlos yell "I am on the summit!"
Video from the summit of

Aguja

de

Rune.
Again I climbed as quickly as possible by a combination of free moves and pulling on gear - we wanted to get down before it got completely dark as we only had one headlamp with us! When I got to the summit we hugged and yelled "YES!" - we finally managed to climb a new route! What a great felling!
Video of Carlos rappelling from

Aguja

de

Rune.
While Carlos rappelled the route I was left on the summit in almost complete darkness. There was no wind or sound and I had the most spectacular 360° view with
Cerro
San Lorenzo
glooming
in the moonlight. What a great feeling to just sit there for a few minutes enjoying the
exhilaration
of a first ascent!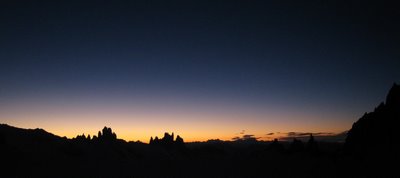 Rock needles seen from the summit of

Aguja

de

Rune.
Back in the tent we discussed what name to give the peak. Carlos and I met for the first time in 2003 while
ice climbing in
Rjukan

, Norway
. He was there with his wife, Christa-Lee Mitchell, and I was there with three of my Danish friends, Rune
Klausen
,
Sune
Hermit and
Carsten
P. Cooper-Jensen.
Regretable
, Rune died in a rappelling accident on
Pyramide
du
Tacul
,
Chamonix
,
France
in August 2005, and given that we both knew him, I suggested to name the peak in his honour. Carlos quickly agreed, and we thus named the peak
Aguja

de

Rune
(
Rune's Needle
in English,
Aiguille

du

Rune
in French). We also discussed which grade to give the climb. Free climbing in the summer in friction shoes it would probably be French grade 5c (US 5.8) and the way we climbed the route it involved aid A2+ and drytooling D5 sections.
Aguja

de

Rune seen from the tent after our ascent. Summit of Cerro San Lorenzo is seen in the back in the upper righthand corner.
The next day we descended into a valley on the Chilean side and then drove back to
Buenos
Aires
to catch our airplanes. Read more about that in the next post:
Cerro San Lorenzo part 6 - descent and route 40 home
.
Previous parts:
Part 1:
Cerro

San Lorenzo - getting there
.
Part 2:
Cerro

San Lorenzo - advanced base camp.
Part 3:
Cerro

San Lorenzo - life at

Puesto

Muñoz
.
Part 4:
Cerro

San Lorenzo - attempt on

Cerro

San Lorenzo
.
Previous posts.
Labels: climbing