A day at Kullen, Sweden
The climbing crag which is closest to my home in Copenhagen is
Kullen
/
Kullaberg
, Sweden. It is located in the most beautiful setting with cliffs going directly into the ocean. No matter where you climb in the area you thus have an excellent view!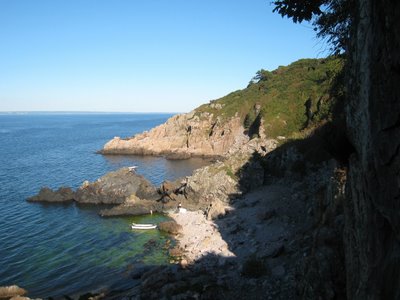 A typical scenery at

Kullen

- rocks with a view!
This Sunday I went climbing there for the first time this season with
Camilla

Hylleberg
. We had a great day in perfect weather and climbed five routes. First I led
Papillon
(IV+) which was a great 2-star route which however, was a bit exposed for a first trad lead of the season!
Next Camilla climbed
Flagermusen
(V+), which was also a great 2-star route although it was a bit of a sandbag at that grade! Great lead of Camilla who, in contrast to me, was in great trad climbing shape after a 3-month climbing trip to Chamonix and USA!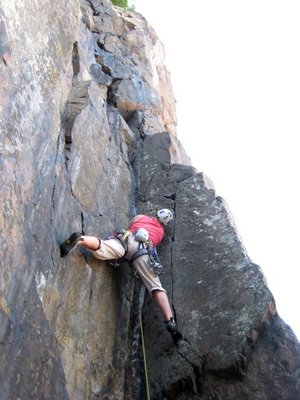 Camilla leading

Flagermusen

(V+).
Next we climbed two other 2-star routes,
Nirvana
(V+) and
Samsara
(V+), which were also excellent. I was quite satisfied to lead V+ on my first trad-day of the season and slowly my head was mentally getting back into the game of leading on the suspect rock of
Kullen
.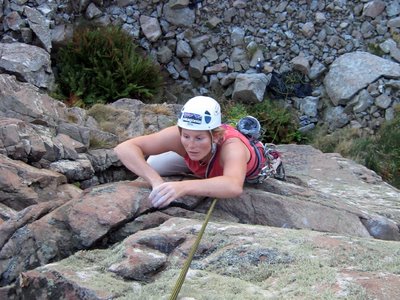 Camilla following on Nirvana (V+).
Kullen
is notoriously known for its loose rock and you thus have to be extra
careful
placing gear and pulling on blocks!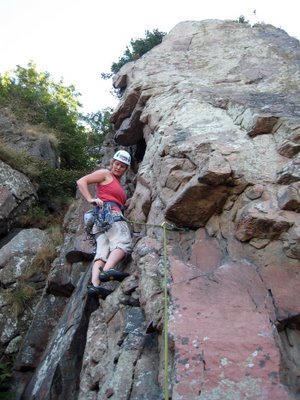 Camilla leading

Samsara

(V+).
That said, the four routes we had climbed so far had been on solid rock (thus the two stars), and maybe that was the inspiration for my next route
Skidtrenden
(V-) [translates to "The Shit Groove"] which turned out to live up to its name!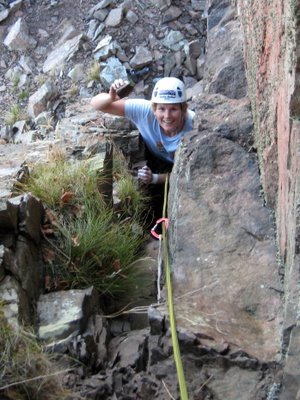 Camilla following on

Skidtrenden

(V-) with another loose hold in her hand.....
Several holds on the upper half of the route were loose, and it thus had an alpine feel to it! Well, great training for the next alpine climb....
Camilla

rappelling

Skidtrenden

, which is the chimney line left of her.
It was actually still an enjoyable climb and in particular the squeeze up the upper chimney was fun. In my view, the route thus didn't quite deserve the negative smiley in the guide book.
All in all another great day at
Kullen
!
Previous posts.
Labels: climbing