Cerro San Lorenzo part 1 - getting there
"Let's go to Patagonia and climb in the winter!?"
- my friend
Carlos Buhler
and I were looking for a June project and now I thought he had lost it! Having read countless stories about bad weather in the summer I could hardly imagine how miserable it would be in the winter. But in the end he convinced me that the weather would be more stable, albeit colder, in the winter and taking his word for it I bought an airline ticket to Buenos Aires.
Next we discussed what to climb, and based on recommendations from
Pere Vilarasau
, Rolo Garibotti and others (and the fact that Carlos had already climbed
Cerro
Torre
in the
Fitz Roy
park) we decided to go to
Cerro
San Lorenzo
(3706 m) some 500 km north of
Fitz Roy
. San Lorenzo is a very interesting peak as it has seen much less traffic than its Southern cousins. So far only four different routes have been established:
the Agostini (normal) route from the Chilean side [largely a non-technical ski touring route]
the East ridge (a.k.a. the South African Route)
the North Face couloir (with two variations at the top)
a route via the Western

Glaciar calluqueo

and the South summit (has not been published in detail yet [August 08])

Cerro San Lorenzo seen from Puesto Muñoz with the East ridge (left) and North Face couloir (middle) clearly visible.
It took us a while to gather information about the mountain and the routes but eventually found the following descriptions:
In addition we got pictures of the East faces from Doug Tompkins and Michael Kennedy (thanks!) which together with the descriptions listed above convinced us that there was a huge potential for new mix routes on the Argentinean (East) side of the mountain.
From the descriptions it was also clear that access to the mountain from the Argentinean side is not trivial. Basically, you can approach the mountain from the North-West (the normal access from Cochrane, Chile), the North-East (leaving Route 40 at
Bajo Caracoles
, Argentina and drive East to
Lago Posadas
via Route 39, then continue to
Estancia Los Ñires
and then follow
Rio Oro
to
Puesto Muñoz
), and the South-East (leaving Route 40 just North of
Las Horquetas
, Argentina and drive East to
Parque Nacional Perito Moreno
which you cross to enter
Estancia El Rincón
(owned by Doug Tompkins)).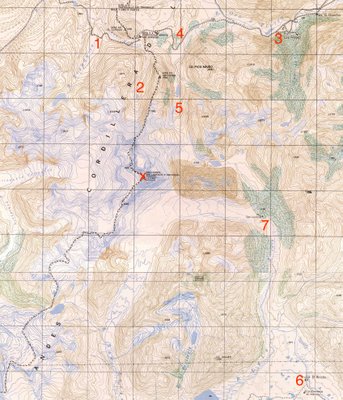 Map of Cerro San Lorenzo with the following waypoints:

1.
The approach "road" from Cochrane.
2.
The Agostini hut - base camp of the normal route.
3.
Estancia Los Ñires.
4.
Puesto Muñoz.
5.
Our ABC with hot springs.
6.
Estancia El Rincón.
7.
Puesto San Lorenzo (a basic hut owned by Doug Tompkins which has been used by previous climbing parties as shelter).
x.
Summit of Cerro San Lorenzo.
Click picture to enlarge.
Some of the descriptions had warned of difficulties getting permits from the land owners on the Argentinean side to access to the mountain and in addition it was clear that we would need a 4x4 to have any chance of getting within walking distance of the mountain. However, Doug Tompkins had given us permit to cross his land (
Estancia
El
Rincón
) and
Sebastian Letemendia
had put us in touch with Mario Sar (the owner of
Estancia
Los
Ñires
and
Puesto
Muñoz
). We thus felt confident that we somehow would be able to get to the southern or northern East face from the Argentinean side.
After a lot of research on price of 4x4 rentals and domestic airfares we decided to rent a 4x4 (Nissan X-terra2) in
Buenos
Aires
and then drive the ~2500 km in each direction to the mountain! Renting 4x4's in Argentina is not cheap, but
AbCars
had the best deal we could find and they turned out to be trustworthy and efficient. Based on recommendations from
Tommy Heinrich
we stocked up with 2 x 20 liter jerry cans, 2 spare tires and snow chains. Seemed a bit extreme and as it turned out we only needed one of the spare tires - but better safe than sorry (on average there was 200 km between gas stations in Patagonia). Also we purchased gas canisters and all our groceries in
Buenos
Aires
as we were not sure what would be available down south.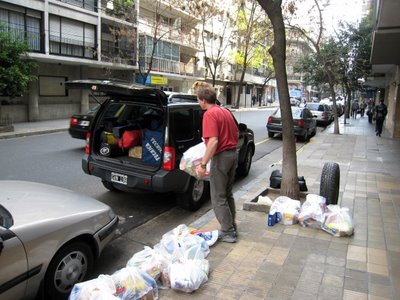 Carlos loadin
g the 4x4 with gear and groceries.
After two days of buying stuff in
Buenos Aires
we finally started driving south. After just 200 km we were stopped in the first (of many) police controls. They claimed that we needed an international drivers license to drive in Argentina (which I had left at home...) and thus wanted to give us a fine. However, we didn't buy their B.S. and thus called Veronica at the rental company who talked to the police officer twice after which he finally gave up and let us go - thanks Veronika for straightened them out! We later learned that a typical fine in Argentina is 3-5 US$ and has more character of a bribe than a fine - the government will never see any of that money.....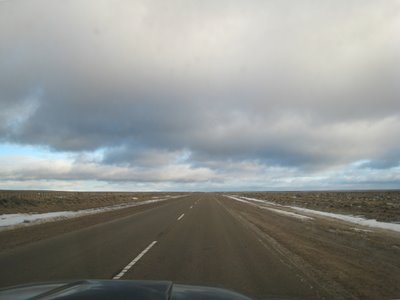 Most of the trip down south looked like this - straight roads on flat pampas.
We drove down Route 3 which follows the Atlantic ocean all the way to
Ushuaia
in the extreme south. At
Caleta Olivia
we turned inland on Route 12 leading us to Route 43 which took us to the town
Perito Moreno
. Driving on the pampas was pretty event less besides the occasional police controls (which except from the first one gave us no problems - it helped a lot to pretend not to speak Spanish!) and three road blocks by striking oil workers around
Comodoro Rivadavia
and
Caleta Olivia
. Luckily they only stopped cars for ~30 min so it was not too bad.

Movie passing one of the road blocks.


As we approached the Andes mountain chain, the scenery got much more beautiful and in

Perito Moreno

we turned south again on the legendary Route 40 (a partly gravel road, being paved now, following the Andes mountain chain throughout Argentina).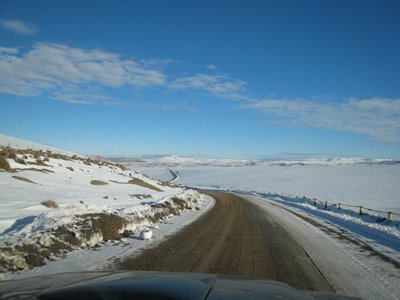 Route 40 - which is partly a gravel road
.
We first tried the Southern access and after 3 1/2 days of driving we got to
Estancia Menelik
situated just outside the
Parque Nacional Perito Moreno
where we spent the night with the caretaker Manuel Pedro (thanks to the owners, Rafa & Augustin Smart, for given us permit to stay there!).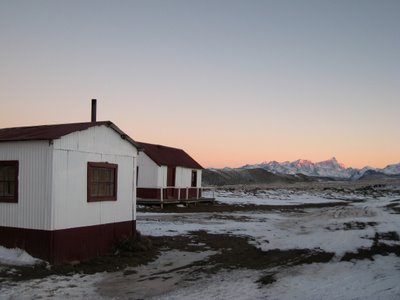 Estancia Menelik with the South-East faces of Cerro San Lorenzo in the background.













The next morning we continued to the park office (~100 km from Route 40) and spoke with the park rangers. They were quite surprised to see us, as no "normal" people visit the park in the winter! The first ranger we spoke with (named Fernando) was friendly although he claimed that the dirt road to

Estancia El Rincón

was closed by snow drifts (which was hard to believe given the low amount of snow at the park office!). Suddenly a second park ranger (named Leo Montenegro) appeared who was a lot more aggressive and unfriendly. He didn't want our 4x4 on park grounds as he was afraid our SUV would get trapped for months if we got a snow storm and he got blank eyes when we told him of our intentions to stay on Doug Tompkins land for almost a month climbing steep routes on the mountain. Suddenly the park was closed for the season, and he would report us to the police if we drove into the park etc. After a lot of negotiations he offered to drive our stuff to

Estancia El Rincón

(but no further, which left us with 19 km walking to get to

Puesto San Lorenzo

with all our gear and food) and they would then drive the car back to

Estancia Menelik

. Having us out of the park would leave him with clean hands if something happened - I just love park rangers and national parks.....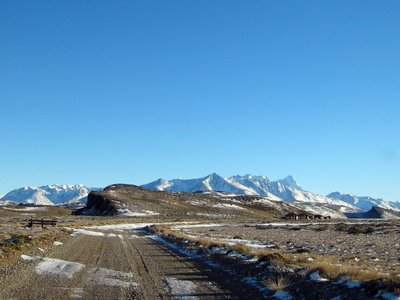 The entrance and park office (middle right) of Parque Nacional Perito Moreno with Cerro San Lorenzo in the background.
Not liking the prospect of carrying all our gear and food 19 km just to get to
Puesto San Lorenzo
(from where there would be another ~7 km to the foot of the mountain), we decided to try the Northern access before we made a final decision on our approach. We thus drove back to
Bajo Caracoles
where we met Mario and Mari Sar - the owners of
Estancia Los Ñires
and
Puesto Muñoz
. In contrast to the
2006 AAJ description
(which reported that the Sar's allegedly had charged 1200 US$ per person to cross their land) we found the family to be extremely friendly. Mario Sar thus guided our SUV all the way to
Puesto Muñoz
and let us stay in the new house they were building there for just 300 US$ total!
The gravel road (Route 39) to
Lago Posadas
was of high quality and the dirt road to
Estancia Los Ñires
was also pretty good (collectively 130 km from Route 40 to Los Nires).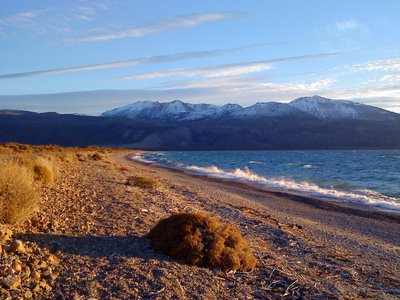 The spectacular natural dam between Lago Posadas and Lago Pueyrredón.






However, the 15 km from
Estancia Los Ñires
to

Puesto Muñoz

was a mix of a rough track and a rocky river bed with several river crossings, which would have been impossible to navigate without a guide! As we got to
Estancia Los Ñires
in the dark we decided to spend the night there and then continue the next morning.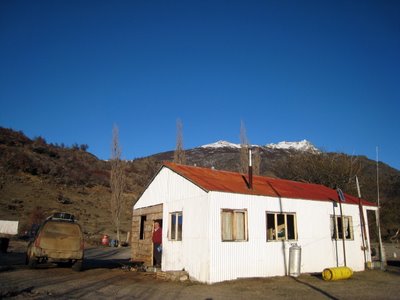 Mario Sar enjoying the morning sun hitting Estancia Los Ñires.














It was an exciting ride the next morning - in particular the river crossings were a bit unnerving. Luckily, Carlos has a lot of experience of driving in this kind of terrain from climbing in

The Ghost

, Alberta, Canada and he thus got us safely to

Puesto Muñoz

with just one flat tire ;-)


Video of one of the river crossings guided by Mario Sar.


We were totally psyched when we got to
Puesto Muñoz
- it was close to the mountain and there was a new hut with a stove. The perfect base camp!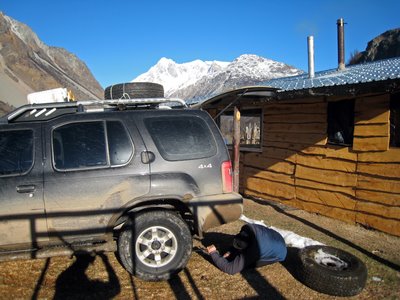 Changing the tire at Puesto Muñoz. Note the close proximity to the mountain :-)
Mario Sar's oldest son (also named Mario) had taken two horses from
Estancia Los Ñires
to
Puesto Muñoz
and after a nice beef lunch they rode back to
Estancia Los Ñires
. We were then left with his youngest son, Martin, and the gaucho Jose Luis, which were both great guys that we had a lot of fun with the following three weeks.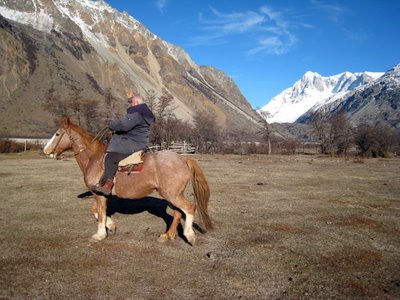 Mario Sar riding back to Estancia Los Ñires. The Rio Oro valley leading to Cerro San Lorenzo is seen in the background.
The next morning we started exploring the approach to the mountain up the
Rio Oro
valley. We had been warned by Michael Kennedy and Manuel Pedro that the moraine would be dreadful, but luckily they were wrong.......
Read the next part of the story:
Cerro San Lorenzo part 2 - advanced base camp
.
Previous posts.
Labels: climbing